Acta Futura online journal by ESA Advanced Concepts Team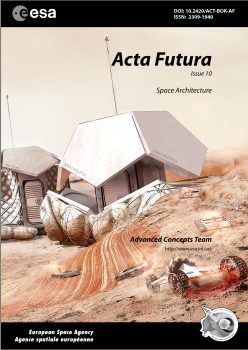 Acta Futura is an open access on-line journal run by scientists connected with ESA's Advanced Concepts Team. It publishes papers on multidisciplinary research topics of potential interest in the long term for space science. The journal contains papers covering topics in which the space sector has a demonstrated interest. Thus, the content includes a wide spectrum of scientific areas, ranging from fundamental physics to biomimetics, mission analysis, computational intelligence, neurosience, as well as artificial intelligence or energy systems; this list is not exhaustive.
Acta Futura applies the Creative Commons Attribution (CC BY 4.0) license to all works published.
Assets